"T have been attending Carol's resilient mind gym sessions in Northwich and I can highly recommend her. I have learnt such a lot about myself and now feel that I have control over my anxiety and thoughts; the numerous strategies we have been taught are invaluable and can truly change your lifeourselves!"
LM
Mental Health Training because mental health matters
Most of us will experience stress and anxiety at some point in our lives. If this is you, then the first point I'd like to make is that you are not alone.  Despite, what you may have felt it isn't a sign of weakness in fact, the strongest people that I know have lived with the symptoms of stress and anxiety for years.
As a therapist and also, as somebody who has experienced anxiety, I have created this community class to share the knowledge that I use in my private therapeutic sessions.
Whilst, we may all know at some level that stress and anxiety are not good for us in fact, they are responsible for 95% of all illness and disease.  
The good news is that there is much that we can do to understand stress and to develop more positive mindsets. 
I deliberately keep my classes small, no more than 10 people attend.  We support each other outside the group through What's App and we get great results.
If you would like to learn more about my Resilient MindGym class please get in touch
"Carol is a calm, reassuring therapist with a wide variety of mindfulness techniques to share. She's helped me to find ways to reduce stress and enjoy the moment, and her group sessions have been fun and supportive." 
LB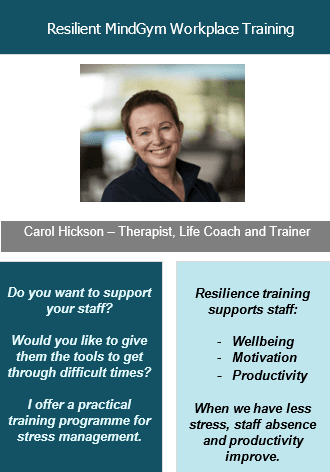 Did you know that in only a matter of days people are qualifying as workplace mental health trainers?
I believe that we can no longer provide the minimum when it comes to mental health provison.
After years of training as a professionally qualified therapist and coach, I work daily with clients seeking to improve their mental resilience. My training and experience ensure that I can not only anticipate and manage any staff abreactions, I can also, provide additional one-to-one support. I work closely with many companies as their mental health practioner. The benefit for you and your staff is that in addition to effective training, I build therapeutic relationships with staff and this is is a fundamental factor in successful mental health treatment.
I have professional qualifications in Cognitive Behavioural Therapy (CBT), the Emotional Freedom Technique (EFT), Hypnotherapy, Life Coaching, Mindfulness and Neuro Linguistic Programming (NLP).
I have created the Resilient MindGym training programme based on scientific research and experience; as such it offers a comprehensive approach to stress management.
If your current provision is not giving you the results that you require, I would be delighted to discuss my approach further.