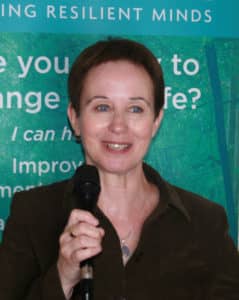 "Thank you Carol so much for the excellent talk on stress on Saturday 20th June to my employee's CPD group.
You talked with well researched knowledge,empathy and gave us great self help exercises to empower ourselves. It was a great talk and very much enjoyed too  
Thank you."
SP
"Mental Health Training because mental health matters"
Online training courses currently available.
Employees are the life blood of business and yet so many people are living with stress both at home and at work.
According to research, 95% of all disease and illness has a stress root (Stanford University Medical School: 1998). Figures released for 2018, from the UK Health and Safety Executive indicate that 57% of workforce absenteeism is stress related. And yet people have little idea of what stress is and, more importantly what the long-term effects on the individual are.
I have developed Resilient MindGym to help your employees improve their emotional, mental and physical health. This training offers a comprehensive, structured approach to help people understand and manage stress symptoms and includes both detailed notes and recordings. These provide a structure to work from so attendees can integrate these changes into their lives following the training. 
"As an Osteopath it is sometimes hard to find someone who I would be happy to refer clients to. In Carol I now have that person. Her session was informative, practical, calming and above all presented in a lovely clear manner – all in zoom!! The techniques have been easy to adopt into everyday life which is what makes it work. Thank you Carol! 
MK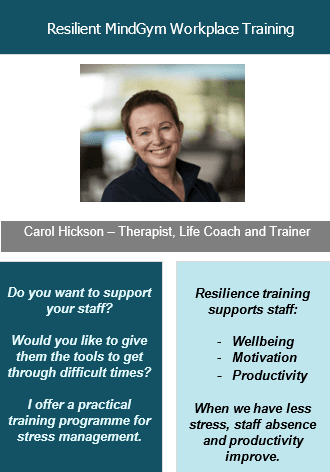 I have created the Resilient MindGym training programme based on scientific research and experience; as such it offers a comprehensive approach to stress management. 
After years of training as a professionally qualified therapist and coach, I work daily with clients seeking to improve their mental resilience.  My training and experience ensure that I can not only anticipate and manage any staff abreactions during training sessions, I can also, provide additional one-to-one support.  I work closely with many companies as their mental health practioner.  The benefit for you and your staff is that in addition to effective training, I build therapeutic relationships with staff and this is is a fundamental factor in successful mental health support.  
I have professional qualifications in Cognitive Behavioural Therapy (CBT), the Emotional Freedom Technique (EFT), Hypnotherapy, Life Coaching, Mindfulness and Neuro Linguistic Programming (NLP).  
I am registered with EFT International, the Hypnotherapy Register, the Complimentary Medical Association (CMA) and the Complementary and Natural Healthcare Council (CNHC).  I am also, a volunteer hypnotherapist for Anxiety UK, a registered charity. 
If your current provision is not giving you the results that you require, I would be delighted to discuss how I can help you.